My New Construction House
has a WET BASEMENT!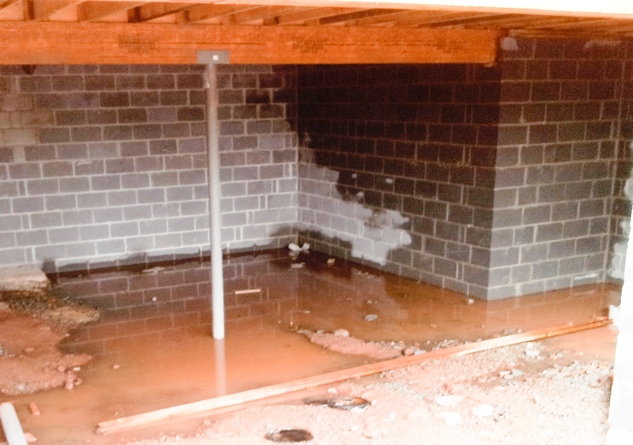 If you have had the unfortunate experience of purchasing a brand new home with a wet basement, you will be happy to know that your basement can be made dry from the outside as it should be. This home pictured below has a major issue with water seeping through the foundation walls. The only way to correct this is with external excavation and a waterproof membrane. Interior methods will not fix this problem. This wet basement will cause mold and moisture problems, and over time will have foundation issues caused by the water. Unfortunately, new construction is plagued with wet basements far more often than it needs to be because builders do not choose to be proactive with preventing common water problems.
Builder Grade Construction causes wet
foundation walls, mold and mildew
Each builder has different standards and abilities in determining what type of waterproofing system is required for a new structure. Few are experts in hydrology, and most would rather buy items that will be seen by the buyer as adding value. This is the reason why too many new homes have water problems today. There is an explanation, though it may not seem logical to you at this time. When a builder is determining where to spend additional money in the construction of your new home, he is also considering what areas will bring the most perceived value to you, the new home buyer.
---
Upgrade to a quality Dry basement
solution for your home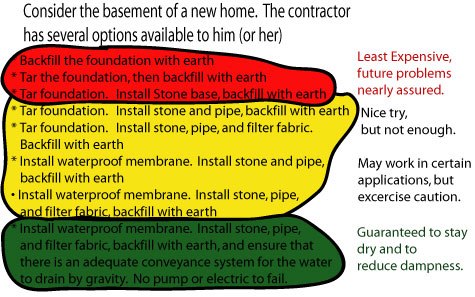 Fortunately, these frequent omissions can be corrected, however, the cost to do so following construction is significantly more than it would have been to do earlier. The primary reason is that specialized equipment is now required to re-excavate along the foundation walls, and may become impeded by new driveways, steps, walkways, decks, or other items. A homeowner would be wise to hire a company that specializes in exterior waterproofing, as errors in design or installation can easily make these problems worse. Do not settle for an interior band aid fix for your new home when an exterior system will benefit your family so much more. If this article describes your home, you need to an expert in the field of exterior waterproofing.
Licensed & Fully Insured for your protection!!!
Call Bobcats for Hire today at 973 227 2477 to arrange for a site evaluation, report, and estimate to make your basement dry as it should be. We will install and guarantee our design for your exterior waterproofing system. Choosing an exterior waterproofing system will allow you to have peace of mind and improved living conditions for your family. "Builder grade" is just good enough for the masses. You deserve better than that for your family. By delivering items with the most perceived value, the builder is assured of receiving the most money for the house. At the time of purchasing a new home, most people will place a high value on tangible items such as a Sub Zero refrigerator, granite counter-tops, or a paving-stone driveway. On the other hand, many people will place a relatively low value on intangible items such as proper basement waterproofing until they actually have a flood. At that time, the new buyer will wish that they had ordered their priorities differently. Because this is well known human behavior, most builders would prefer to invest in tangible items that will bring increased revenues for the house sale, than in intangible items that may likely bring in less revenue for the same costs.
Drainage Solutions