Excavating
Call (973) 227-2477 for NJ service
Bobcats for Hire serves the New Jersey community in providing highly specialized track equipment that is well suited for outdoor construction tasks such as excavating, earth moving, landscaping, installing drainage systems, retaining walls, and site work. Although our specialty is installing drainage systems, our equipment is well suited to a variety of earthmoving chores. Our compact excavators are able to perform the most difficult of tasks, yet they are compact enough to get the job done without destroying your home or business. All of our machines use rubber tracks which are gentle on your lawn, driveways, and parking lots. If your project requires digging for a retaining wall, new water line or electric line, or for a new addition, Bobcats for Hire can help you right away. Our engineering and site experience ensures that your project plan and execution will be methodical and efficient. Let our experience work for you in planning your project to be the best that it can possibly be. We are also able to size and install drywells for your new addition project. Our philosophy is to reuse earth materials where it makes sense to do so, which will save our customers time and money on their projects.
Underground work is not an area to skimp on materials or design as changing these items once they are found to be faulty often results in a total loss of the original project. Bobcats for Hire uses only the best materials for your project, and will specify what materials you are getting with every quotation. Be smart and ensure that your underground project is built to last by using an experienced company that will do what it takes to build a lasting drainage system.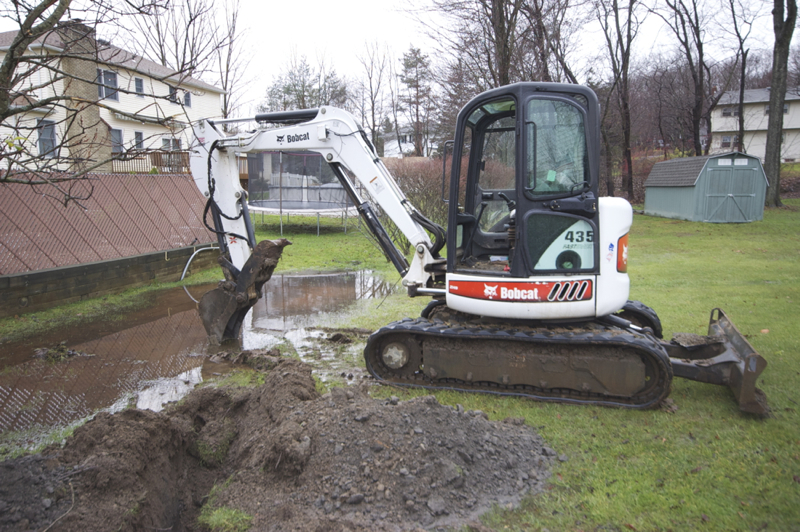 Usually an excavating contractor with a single machine may become tied up on a site for a long period of time. Due to our large number of highly specialized machines, we can usually schedule the best machine for your job quickly. Our equipment has an incredible amount of power for its size, and due to its articulating abilities, we can frequently dig in areas where other machines simply can not go. We have on hand a Bobcat 435 Zero house swing excavator which is perfect for projects that require power, and yet require extreme care when digging in close quarters such as a new foundation drain for waterproofing a basement or installing french drains. Call or click today and get an early start this spring!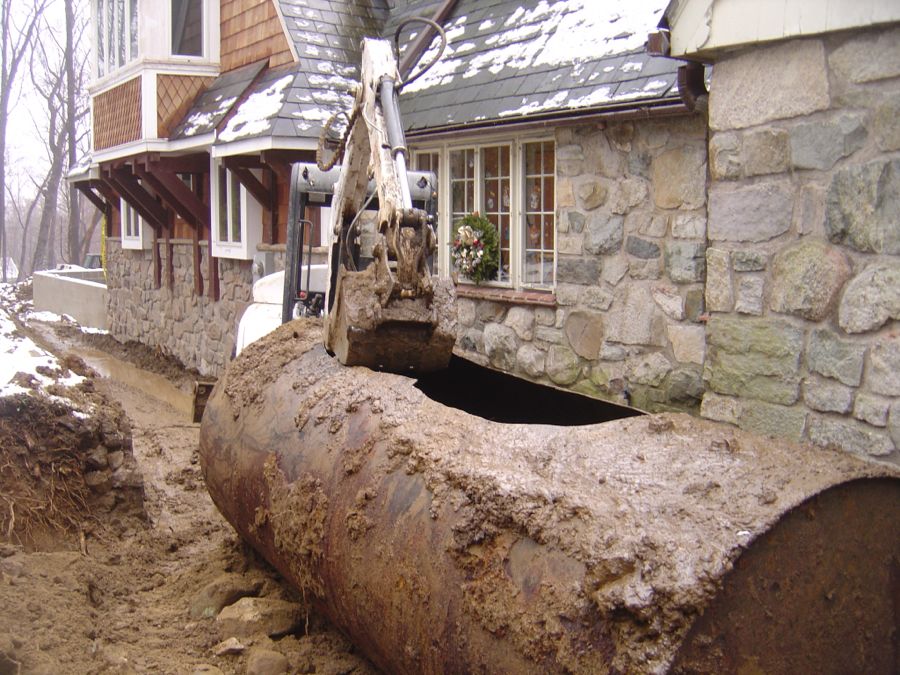 Our Bobcat 331 Track excavator is removing a 1000 gallon oil tank from a very tight location while installing a foundation drain at this older home in Montville Township. Other machines couldn't dream of getting into this narrow area to dig out such a large tank. Following the excavation of this tank, the same equipment was used to install a Foundation drain over eight feet below the grade level. The foundation drain and waterproof membrane were installed successfully to waterproof the basement. This installation also included the addition of an exterior insulation board with an R value of 10 to protect against heat losses from the basement level. This insulating board will help to save on heating costs for the life of the house. The insulating board is not required for the waterproofing, however, it is not too difficult to install when the entire foundation is already excavated, which makes this a smart choice for any homeowner to lower the bills to heat the basement in the future.